ATHLETIC CODE & ONLINE REGISTRATION
WHEN ASKED FOR SKYWARD ID, USE THE "OTHER" ACCOUNT # AS NOTED ON THE SKYWARD ACCOUNT
Requirements for Participation in Athletics
To participate in athletics offered by the St. Croix Central School District, a student and their parent(s) or guardian(s) must provide the following information prior to the first day of practice. These are required as members of the Wisconsin Interscholastic Athletic Association.
Step 1
Go to the Online Activity Registration website.

Click on either "View My Account" at the top right of the homepage or scroll to the bottom of the page where you will find the image below. Both options will bring you to the login screen.

If you clicked on "View My Account" you will see the screen below

If you are a new user, click on "New Users". If you already created an account and are logging in to an existing account, click on "Returning Users".

If you went to the bottom of the home page, click on 'REGISTER NOW" for either the High School Activity Registration or Middle School Activity Registration. If you are registering both a high school and middle school student, you can click on either of the two. You will need to register one student at a time and will have the opportunity to register the other after one is complete.
Step 2
If you are a new user, and clicked on "New Users" or clicked "I don't have an account" from the login page, you will need to create a family account. Enter your first name, last name, create a username and password then enter your email address. You must also check the "I'm not a robot" box and click "Sign Up" to start the registration for your student.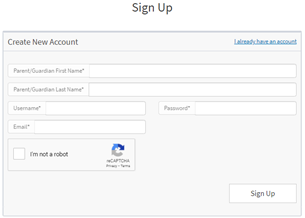 If you already have an account and clicked on "Returning Users", you will see the login screen below. Enter username and password and check the "I'm not a robot" box and sign in.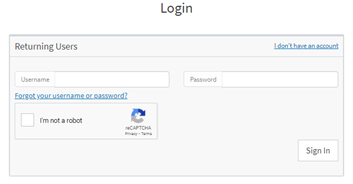 Step 3 (Very Important Step)
Once you have an account created, you will need to register your student(s). Only register your child if he or she is participating in a sport for the current school year. High school students must be registered under High School Activity Registration and middle school students must be registered under Middle School Activity Registration. You will need your student's ID in order to register. This can be found on Family Access.

There are 5 steps to the registration process. Please be sure to read through each step thoroughly and complete all of the required information. If you get part way through and are unable to complete the registration, click "Save and Finish Later" on the bottom right corner. You can pick up where you left off another time. When you get to the end of step 5, click "Submit".
Step 4
You will need to determine if your child needs a physical for the current year or an alternate year card. Both of these forms can be downloaded at the top of the page on Step 5. If you are unsure as to which form your child needs, feel free to call the high school for high school students or the middle school for middle school students. Contact information is listed below.
Step 5
The last step is payment of the athletic fee. The fee for high school athletics is $75 and the middle school fee is $50. Fees can be paid by cash or check in the high school or middle school office or online at RevTrak. There is a $1.75 transaction fee for online payments.
NOTE: There is a yearly individual cap for high school sports of $150 and for middle school the individual cap is $100. The yearly family cap is $300. If you are paying fees for more than one child and multiple activities, please make sure you don't pay more than the individual cap for one student or the family cap for your family. This is especially important when paying through RevTrak. Example: If you have 2 high school students each playing 3 sports and 1 middle school student playing 2 sports, your family cap will be $300 so only pay for the number of sports adding up to $300. We will waive the fees for anything over and above the cap.
| | | | |
| --- | --- | --- | --- |
| Brian Johnson | Activities Director | | 715-796-5383 |
| Tawnya Cran | High School Activities Secretary | | 715-796-5383 |
| Chance Langeness | Middle School Activities Director | | 715-796-2256 |
| Laurie Mousel | Middle School Secretary | | 715-796-2256 |