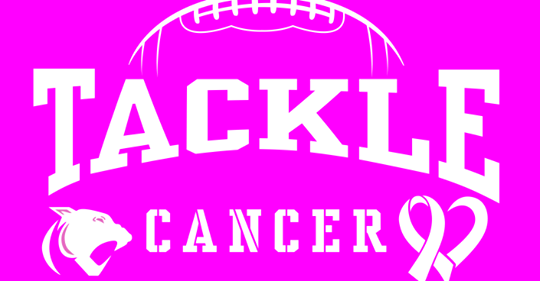 Panthers Tackle Cancer
Jessica Stanton
Tuesday, October 08, 2019
Think PINK and support the battle at SCC's last regular season home game on October 18th vs. Prescott!
Ben Nietfeld is a student at SCC and is a member of the football team. His family just learned that his mother, Suzy, was diagnosed with breast cancer. To show our team, school, and comunity support, we are selling t-shirts to help support Suzy's fight against breast cancer.
If you are interested in ordering a shirt you may do so in the elementary office. The shirts are pink with the "Tackle Cancer" logo below on the front. The cost is $10. Please make checks payable to 'The Stitchin' Post'. You can also order them by calling The Stitchin' Post at 715-749-0112.
All profits go to the Nietfeld family.
Please have elementary orders to the office by 3:00pm on Friday, October 11th. Pick up of the shirts will be at the elementary school or Stitchin' Post on Wednesday, October 16th.
You can also order online directly through The Stitchin' Post here: Order Online
Click link to view flier for more information: Panthers Tackle Cancer
Thank you for supporting!